Extreme Packing Solutions is here to handle heavy duty rigging and machinery moving for small to medium-sized businesses in Beverly, Boston, and the entire eastern Massachusetts area. From machine installation and relocation to industrial equipment rigging, our goal is to make your job easier.
Our Rigging & Machinery Moving Services
From a single machine or device to entire factories or floors, EXPS has been providing professional machinery packing and shipping for heavy equipment for years. Our services are always fully insured and include: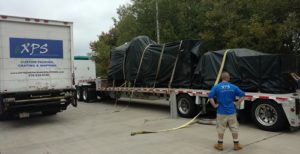 Rigging
Heavy hauling
Machinery moving & storage
Local & long distance hauling
Machinery moving
Why Choose EXPS for Rigging & Machine Hauling
We pride ourselves on being able to provide our customers with full-service machine moving from start to finish — from organization, to packing and shipping, and turn-key installation. Our skilled and organized team is all-hands on deck when it comes to getting your machinery to it's intended destination on time. We're your go-to Boston, Massachusetts and New England area contractor for rigging and heavy hauling.
In order to provide exceptional service, it's important to have the right tools for the job. EXPS arrives at all job sites equipped with flatbed trucks, cranes, forklifts, crates, dollies and packing equipment to secure your machinery while en route to it's new home. Contact us today for a free estimate!