Extreme Packing Solutions specializes in electronics and computer packing and shipping services for Boston, Beverly, and surrounding areas. We understand the expense it took to invest in electronic and computer equipment, which is why you should only trust professionals to pack and move your equipment.
Computer & Electronics Packing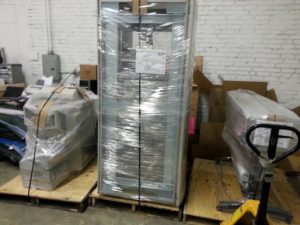 Just like artwork or antiques, computers and electronics are comprised of fragile components that need to be properly secured for the shipment process. Our custom packing and crating service starts with taking precise measurements and weights of each part to determine the best-sized wooden crate or box to house the object in for transport. We use the latest packaging technology available to ensure that your computer or electronic items are secured and shifting is at a minimum.
Electronic Shipping & Courier Service
Whether you're looking to ship your computer or electronic equipment across town or across the country, EXPS Inc will make sure it gets there on time and unscathed. With the use of built-in ramps on our trucks, anti-static bubble wrap, straps, dollies and custom wooden crates, you can rest assured your shipment is in good hands. We offer the following electronic shipment solutions:
Box trucks and flatbed truck shipping
Long distance hauling
Warehousing and receiving
Packing and unpacking
We Ship the Following Electronic Equipment
Telecommunication equipment
Servers and server racks
Computers, monitors and laptops
Video and recording equipment
Printers and photocopiers
Need professional packing and shipping services for your electronic equipment? Contact Extreme Packing Solutions today for a free estimate on your local or long distance shipping needs.