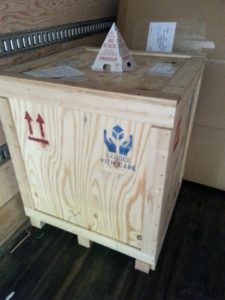 When it comes to shipping objects internationally, most countries require these items to be packaged in wooden crates. Unfortunately many packing and shipping companies in Boston don't provide international shipping via wooden crates because they aren't ISPM 15 certified. Luckily, our packing and shipping company in the greater Boston area is certified, which means you can get your items to where they need to go quickly and efficiently.
What is ISPM 15 Certified?
International Standards For Phytosanitary Measures is a measure put in place to prevent the spread of diseases and insects that often tend to hitch a ride between countries during international shipping. Wooden boxes that are greater than 6mm thick (which is what we use here at Extreme Packing Solutions) need to therefore be heat treated and fumigated with methyl bromide to kill off any lingering viruses or organic matter than could harm foreign ecosystems. This certification is also required for wooden pellets, crates, dunnages and other wooden packaging materials.
Why EXPS, Inc is ISPM 15 Certified
Our Boston area crating, packing and shipping company is ISPM 15 certified because we believe in providing our customers with more flexibility when it comes to shipping options. Your items shouldn't have to be contained and shipping within a specified cardboard box size. We're here to make your life easier and provide you with custom wooden crating options for items both large and small, fragile or not. We also value the global environment and want to keep it safe. By using ISPM 15 certified wooden crates, customers such as yourself can rest assured that your items can be safely transported abroad.
If you're in need of a reliable international shipping and freight forwarding company, contact Extreme Packing Solutions for a free estimate.