When it comes to making sure your products and equipment make it safely to your business' front doorstep, you want to make sure it's being shipped by the right people. These people should know the area, be familiar with handling your type of product or equipment, and provide excellent customer service. One way to ensure that you get the quality service you deserve is opting for last mile delivery.
What is last mile delivery service?
Last mile delivery — something we provide here at Extreme Packing Solutions — is different from your normal shipping and delivery service. If you've requested a shipment through an international carrier to be delivered somewhere in the Greater Boston area, EXPS will meet that carrier either at our storage facility or another designated loading dock in the area. From there, our crew will take over and see to it that your shipment makes it safely to your door and into your commercial space.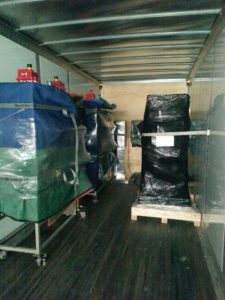 Benefits of last mile delivery
Also known as blanket wrap or pad wrap services, last mile delivery is a game-changing solution for businesses. EXPS will not only hand-deliver your shipment to the front door, but also unwrap and stage the product in it's proper place inside your commercial space.
For example, a tech lab in the Cambridge area may need computer server racks delivered. Our team will meet the international freight carrier at the designated unloading dock, carefully pack and secure everything onto our trucks, drive them to the lab in Cambridge and carry them to the correct room. From there we will make sure that the items are placed in the correct spot; we will then unwrap all of the items and dispose of the packaging debris!
With last mile delivery, you will no longer need to haul expensive, bulky, and fragile items off your front doorstep or the curb. Instead, you can rest assured that the crew at EXPS will carry everything into your building and place it where it belongs.
Interested in pad wrap and last mile delivery services in the Boston area and beyond? Contact Extreme Packing Solutions today for an estimate.